by Crystal Glanz-Kreutz
If you head about 270 miles north of our office; across a river, along a few inlets, and over the Salish Sea- you will find yourself in Victoria, British Columbia, Canada.
Victoria is the Capital of British Columbia, a beautiful little corner of Vancouver Island, and one of the oldest cities in the Pacific Northwest. The city was once a shipbuilding and fishing center, the area once offered plenty of lumber to its colonizers, perhaps it is just because it's in the PNW, but it feels hauntingly similar to Portland. Even the architecture of the area is not that unlike here; there's a bevy of craftsman style bungalows, there's a bustling downtown core, complete with a wonderfully intricate Chinatown, but a key difference is that because of its past as a British Colony, there are some very distinctive English influences in the architecture there. For example, the Fairmont Empress is a grand hotel next to the city's harbor that boasts a Chateauesque style facade. Also near the harbor, the British Columbia Parliament Buildings are detailed Neo-Baroque structures:
The Craigdarroch Castle is a romantic, eclectic mix of Queen Anne, Victorian, Gothic and other influences. From its stately location atop a hill overlooking the city, to its craftsmanship (numerous detailed stained glass works, parquet wood flooring, handcrafted tiles, and complex wood carvings), the castle isn't exceptionally large, but it is certainly mighty. Should you find yourself in Victoria, you can pay a small fee to tour this castle and see all of the phenomenal details for yourself. Carved acanthus leaves are aplenty!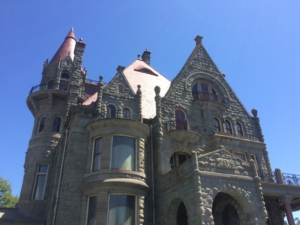 Nestled in a busy little corner of streets, just outside of the city, is a very modern structure that has fun Piet Mondrian influence at most of the windows. What you might not suspect from its unique exterior is that this is a middle school.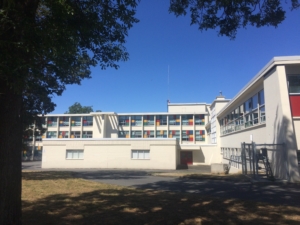 Portland has seen its waves of influence: from the Victorian start, to booming craftsman bungalows, rambling ranches, and the current Modern infills… it is interesting to a city that so mirrors the our own path while also showing a few of the possibilities of what we could have done. One notable style that I missed seeing, and that we excel at, was sustainable architecture. Maybe that is next on their horizon for Victoria…?