by Crystal Glanz-Kreutz
A few years ago, we did some exterior studies for apartment buildings that Barb's sister and her family own in Gwinner, North Dakota. When Barb visited home recently, she took some pictures of what the apartments look like now after construction has been wrapped up.
Here are the before images:
We completed a conceptual design for the two buildings, to enhance the energy efficiencies and to make aesthetic improvements. The contractors replaced siding, windows, and doors; completely updating the look of things. The owners have also been updating the interior of the apartment units and they're just about done with them all now.
Some of the design process: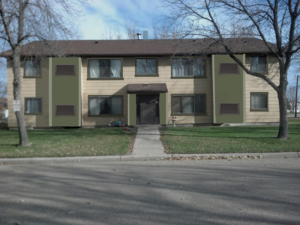 The finished, updated buildings:
The apartment buildings are located in the town of Gwinner, North Dakota. Gwinner is home to Bobcat  (the company started there in 1947 and is the state's largest manufacturer) so many of the Bobcat employees live in these units.